10th Anniversary Concert ticketing details
Posted April 2016
As mentioned earlier, our concert is being ticketed this year to avoid overcrowding issues in Dekelboum. This means that all guests in attendance MUST HAVE A TICKET TO GET INTO THE CONCERT! Tickets are FREE, but required for entry! You are allowed to reserve more than one ticket at once. Request your ticket(s) online HERE, then pick them up at the Will Call booth in the lobby of CSPAC.
Tickets do not guarantee admission. Arrive early to claim your seat. If tickets are not claimed 15 minutes before the performance, they are subject to being released to a standby line.
Day-of Waitlist: If necessary, The Clarice will form a waitlist starting 1 hour prior to the performance. Starting 15 minutes before, we will begin calling names for any available seats. You must be present when your name is called to claim your ticket or we will move on to the next person on the list. Additionally, we will re-issue any tickets that have been returned prior to the day of the performance.
For additional information, visit the official event page on The Clarice Website.
---
10th Anniversary Hype!
Hi everyone! GSO has turned 10 years old this school year, and we have an amazing semester planned to celebrate! Keep an eye on our Events tab for yummy fundraisers, Deathmatch for Charity, and a spring concert that will feature nearly 200 musicians! This concert will be a GSO experience like you've never had before.
As advance notice, we will likely be ticketing our concert this semester. Don't worry, it'll still be free! Considering how well we've packed Dekelboum the past few semesters, we just might need to cap attendance to not run afoul of fire code. You guys are such awesome fans! Stay tuned, we'll hopefully be able to say more about our spring concert soon.
For everyone going to MAGFest this weekend, have fun and enjoy the Super Smash Opera!
---
Eat for GSO
Two days after our fall concert, we will be holding a funsraising event at Jason's Deli in College Park. You can come have a nice meal with friends while also supporting your favorite orchestra! It's the first day of finals, so what better way to relax? If you need any more convincing, Jason's has free soft serve ice cream - yes, we know it's mid-December, but how can you turn down free dessert? Please RSVP here so Jason's knows roughly how many people will be showing up over the course of the day.
---
GSO's 10th Anniversary!
Fall 2015 marks tens years since GSO was founded, so this year we'll be celebrating our milestone! Keep an eye on our main page here to news and special events, and make sure to come to our epic fall concert (see the Events tab for details).
---
Spring 2015 Events!
It's spring again, and Gamer Symphony Orchestra is back in action preparing for our biggest semester ever! This spring you will have three chances to see the GSO perform, so we are preparing a large, diverse setlist for video game music fans of all tastes.
First, we'll be previewing our concerts as part of the Maryland Day festivities on campus at the University of Maryland on Saturday, April 25th at 3 P.M. Be sure to come by early to experience all the awesome Maryland Day events and to ensure you get parking! To learn more about this performance and the countless other amazing activities on Maryland Day, check out the Maryland Day website here.
Next, come to Dekelboum Hall in the Clarice Smith Performing Arts Center on May 2nd at 7:30 P.M. to see the GSO doing what we love most on our home stage. We plan to stream this concert on Twitch, so even if you can't make it College Park, be sure to check us out online! This is sure to be an unforgettable night of music!
Finally, we will be capping off an amazing season with a performance the following weekend at the Smithsonian American Art Museum on May 9th at 3 P.M, as part of the Watch This! Revelations in Media Art exhibition. The GSO last performed at the Smithsonian in 2012 as part of their Art of Video Games exhibition, and we are thrilled to be returning.
We are putting extra work into all our pieces this semester to make every performance great. The last thing we need is you!
Hope to see you there!
---
MAGFest Update
For those of you who found our site after receiving one of our fliers at MAGFest 13 this past weekend, thank you for checking us out! We had a great time meeting you all this weekend, and we appreciate the support and interest expressed by attendees during MAGFest.
Unfortunately, there was an incident at the festival and we lost one of our email listserv signup sheets. If you are interested in receiving occasional emails from us with information about performances and recordings, you can still sign up here.
---
Fall 2014 Concert on December 6th at 2pm at Dekelboum Concert Hall in CSPAC!
The Gamer Symphony Orchestra at the University of Maryland has been having an awesome year. After another powerful concert this past spring, we hit the ground running with our performance at the NextNOW Festival to kick off the season at The Clarice on campus. We were able to showcase some of our very talented individuals and small ensembles at the performance, and we were glad to see so many supporters there!
We are now underway with preparations for our fall performance, which we hope will be the best one yet! We'll be debuting pieces from games like World of Warcraft: The Wrath of the Lich King and Pokémon X & Y, and playing classic selections from Final Fantasy, Kingdom Hearts, and more!
Catch us performing on Saturday December 6 at 2 p.m. at Dekelboum Concert Hall at the Clarice Smith Performing Arts Center. Hope to see you there!
---
Spring 2014 Concert on May 3 and Maryland Day Performance on April 26
The GSO is excited to announce its Spring 2014 performances. If you're on campus on Maryland Day (April 26), come see a preview of our concert at 12:15 pm in the University of Maryland's Clarice Smith Performing Arts Center's Dekelboum Concert Hall. Our Spring Concert will be the next week on May 3, 2014 from 2 pm to 4 pm, also in the Dekelboum Concert Hall.
This semester's lineup includes 12 exciting arrangements from games like Mass Effect, Phoenix Wright: Ace Attorney, Animal Crossing, Starfox, and more. We hope to see you there!
---
Fall 2013 Concert on December 7th at 2pm in CSPAC's Dekelboum Concert Hall!
The GSO's fall concert is shaping up to be one of our best yet! We will be performing new arrangements from Megaman II, Terra's Theme (From Final Fantasy XI), and we will be bringing back crowd favorites such as our Pokemedley and Halo! The concert will be on Saturday, December 7th at 2pm in the Clarice Smith Performing Arts Center's Dekelboum Concert Hall! We hope to see you there! The event is on CSPAC's event calendar here !
---
GSO on the Kojo Nnamdi Show!
The GSO's president and vice-president (Joel Guttman and Zoe DiGiorgio) had the privilege of appearing on The Kojo Nnamdi Show to discuss the growing popularity of orchestral video game music with Chad and Susie Seiter from The Legend of Zelda: Symphony of the Goddesses! In addition to his work with Symphony of the Goddesses, Chad also provided the GSO with the arrangement of Terra's Theme from Final Fantasy XI that we will be performing at our fall concert. You can hear the segment here !
---
Fall Semester and the new UCLA GSO
The Gamer Symphony Orchestra has been busy lately! In addition to gearing up for its Fall 2013 concert, we have also been hard at work helping other schools start video game orchestras of their very own! We are pleased to announce the creation of the Video Game Orchestra and Choir at the University of California, Los Angeles! Their recently had their first performance for none other than the amazing Nobuo Uematsu and his band, The Earthbound Papas! We are incredibly proud of them and look forward to seeing them grow!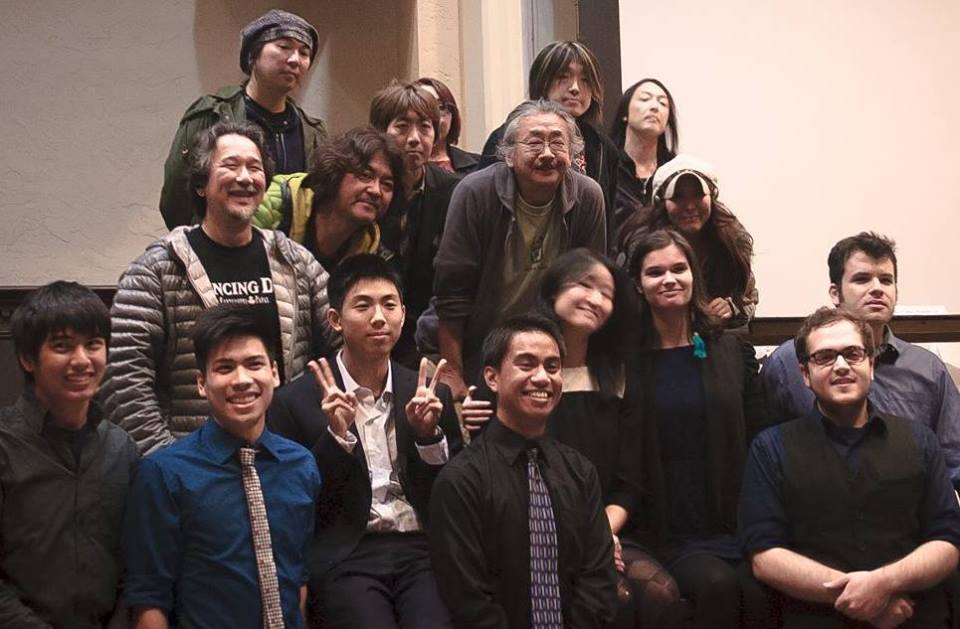 ---
A Concert to Remember
The GSO's Spring 2013 concert was one of our most successful to date, and we've uploaded the recordings for listening and free download as per usual!

The concert was quite emotional, being a memorial for our tubist, David Scherr. However, the emotions were all positive ones, focusing on David's spirit and his contributions to the orchestra. David's Banjo Kazooie and Super Mario World arrangements were both performed, and an extra chair was left on stage for him.

In addition, the concert was the final performance for our long-time conductress, Kira Levitzky. After five years with the group (four of them as conductress), she now moves on to teaching music in Baltimore County's public schools. We wish her the best of luck and thank her for her tireless efforts which helped make the GSO the group it is today.

We also had a celebrity in the house! Austin Wintory (the Grammy-nominated composer from the game Journey) was in attendance at the concert, and even did a seminar the night before. The seminar can be found here!

What excitement and wonders will our next concert hold? You'll just have to wait and find out!
---
Spring Semester and Tuba Crowdfunding Success
The spring semester approaches with a success - the GSO now officially owns a tuba! Thanks to everyone's support and contributions to the indiegogo project, we raised $4,623. Some of this extra money will be used to engrave the tuba in the late David Scherr's memory.

This semester, we've decided to forgo our customary orientation/meet & greet event. On Thursday 1/24, we will be hosting a gathering in Memorial Chapel, in memory of David Scherr. That's from 7:00-8:00pm in the main chapel. Anyone in the UM community who would wish to pay their respects to David is invited to join us, not just our members. You are welcome to invite others. We will be sharing memories, unveiling the GSO's brand-new tuba, and maybe singing something appropriate.

We look forward to making this semester a great one for our members and our fans. Event dates will be announced as they are received. See you soon!
---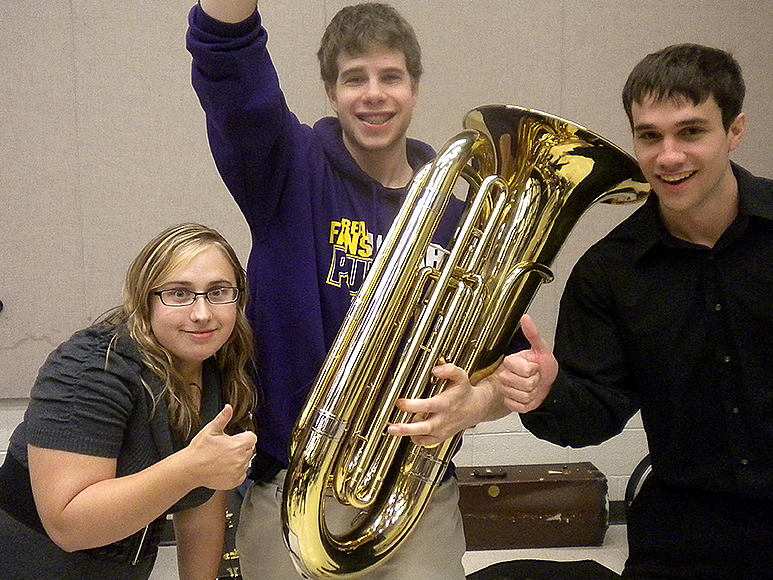 Not only is the event you've been waiting since the Spring to see right on the tip of our tongues, but the GSO needs YOUR HELP to buy a Tuba! We've put together a crowdfunding campaign hosted by indiegogo which, with your help, can move the GSO forward to purchasing its very own tuba. Much like the drumset you see on stage, a tuba is a very expensive but very vital instrument to any ensemble's overall sound quality. Visit the GSO Tuba indiegogo page to find out more.

In the unfortunate event that we are unable to reach our goal, all funds raised will go toward the continued rental of the tuba, bringing down the purchase price even further with the hope that we will be able to purchase it sometime in the future. Should we go over our funding goal, all excess funds will go towards our operating costs. It's surprisingly expensive to operate a student-run orchestra. Of our approximately $17,000 yearly operating budget, the UMD Student Government Association funds less than a third of that. The rest of the cost has to be covered by donations from members and fans like you.

Returning to Dekelboum Hall in the Clarice Smith Performing Arts Center, December 1 at 2:00pm, for FREE as always, we'll be playing pieces from some of the classics - Zelda, Kirby, Final Fantasy - as well as some more niche favorites. What are they? You'll just have to come see us to find out!
---
Subscribe to our newsletter!