Spring Concert on May 3 and Maryland Day Performance on April 26
The GSO is excited to announce its Spring 2014 performances. If you're on campus on Maryland Day (April 26), come see a preview of our concert at 12:15 pm in the University of Maryland's Clarice Smith Performing Arts Center's Dekelboum Concert Hall. Our Spring Concert will be the next week on May 3, 2014 from 2 pm to 4 pm, also in the Dekelboum Concert Hall.
This semester's lineup includes 12 exciting arrangements from games like Mass Effect, Phoenix Wright: Ace Attorney, Animal Crossing, Starfox, and more. We hope to see you there!
---
Fall Concert on December 7th at 2pm in CSPAC's Dekelboum Concert Hall!
The GSO's fall concert is shaping up to be one of our best yet! We will be performing new arrangements from Megaman II, Terra's Theme (From Final Fantasy XI), and we will be bringing back crowd favorites such as our Pokemedley and Halo! The concert will be on Saturday, December 7th at 2pm in the Clarice Smith Performing Arts Center's Dekelboum Concert Hall! We hope to see you there! The event is on CSPAC's event calendar here!
---
GSO on the Kojo Nnamdi Show!
The GSO's president and vice-president (Joel Guttman and Zoe DiGiorgio) had the privilege of appearing on The Kojo Nnamdi Show to discuss the growing popularity of orchestral video game music with Chad and Susie Seiter from The Legend of Zelda: Symphony of the Goddesses! In addition to his work with Symphony of the Goddesses, Chad also provided the GSO with the arrangement of Terra's Theme from Final Fantasy XI that we will be performing at our fall concert. You can hear the segment here!
---
Fall Semester and the new UCLA GSO
The Gamer Symphony Orchestra has been busy lately! In addition to gearing up for its Fall 2013 concert, we have also been hard at work helping other schools start video game orchestras of their very own! We are pleased to announce the creation of the Video Game Orchestra and Choir at the University of California, Los Angeles! Their recently had their first performance for none other than the amazing Nobuo Uematsu and his band, The Earthbound Papas! We are incredibly proud of them and look forward to seeing them grow!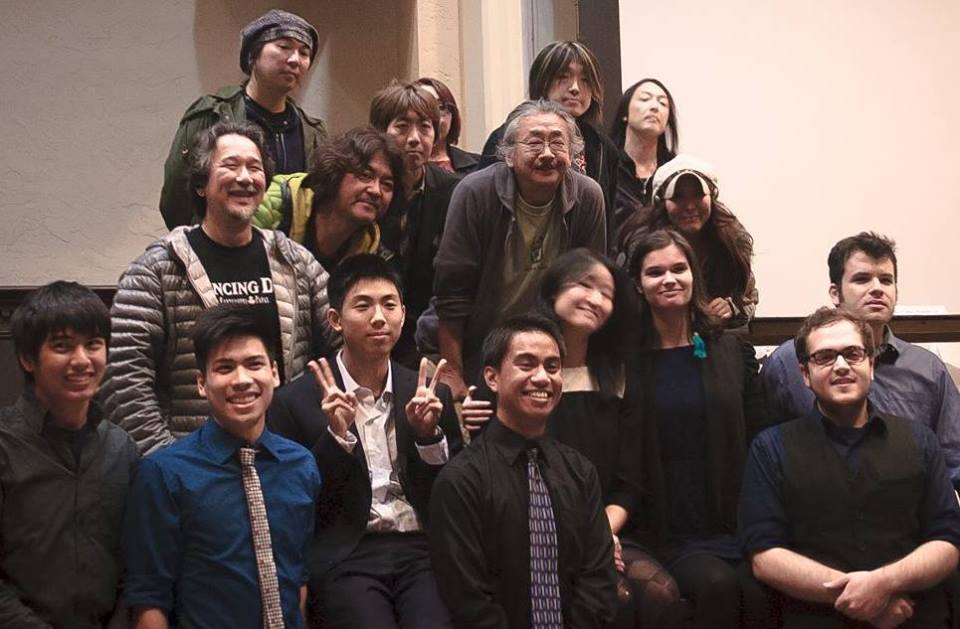 ---
A Concert to Remember
The GSO's Spring 2013 concert was one of our most successful to date, and we've uploaded the recordings for listening and free download as per usual!

The concert was quite emotional, being a memorial for our tubist, David Scherr. However, the emotions were all positive ones, focusing on David's spirit and his contributions to the orchestra. David's Banjo Kazooie and Super Mario World arrangements were both performed, and an extra chair was left on stage for him.

In addition, the concert was the final performance for our long-time conductress, Kira Levitzky. After five years with the group (four of them as conductress), she now moves on to teaching music in Baltimore County's public schools. We wish her the best of luck and thank her for her tireless efforts which helped make the GSO the group it is today.

We also had a celebrity in the house! Austin Wintory (the Grammy-nominated composer from the game Journey) was in attendance at the concert, and even did a seminar the night before. The seminar can be found here!

What excitement and wonders will our next concert hold? You'll just have to wait and find out!
---
Spring Semester and Tuba Crowdfunding Success
The spring semester approaches with a success - the GSO now officially owns a tuba! Thanks to everyone's support and contributions to the indiegogo project, we raised $4,623. Some of this extra money will be used to engrave the tuba in the late David Scherr's memory.

This semester, we've decided to forgo our customary orientation/meet & greet event. On Thursday 1/24, we will be hosting a gathering in Memorial Chapel, in memory of David Scherr. That's from 7:00-8:00pm in the main chapel. Anyone in the UM community who would wish to pay their respects to David is invited to join us, not just our members. You are welcome to invite others. We will be sharing memories, unveiling the GSO's brand-new tuba, and maybe singing something appropriate.

We look forward to making this semester a great one for our members and our fans. Event dates will be announced as they are received. See you soon!
---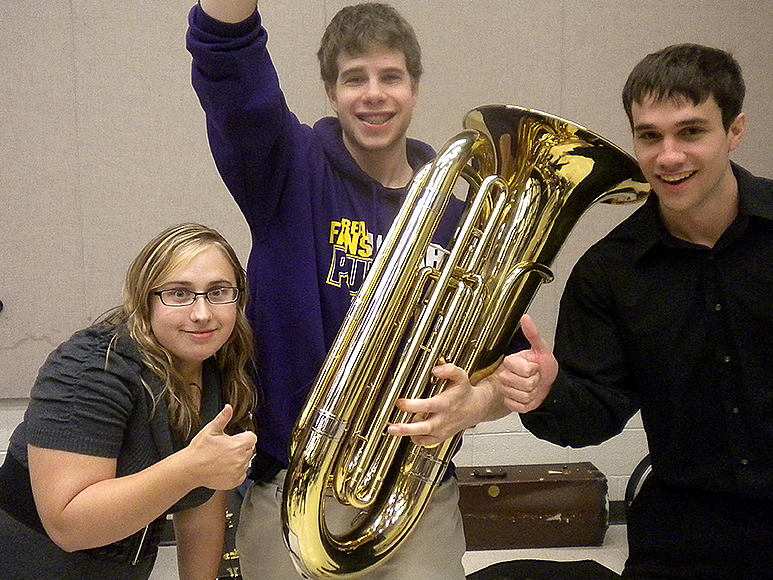 Not only is the event you've been waiting since the Spring to see right on the tip of our tongues, but the GSO needs YOUR HELP to buy a Tuba! We've put together a crowdfunding campaign hosted by indiegogo which, with your help, can move the GSO forward to purchasing its very own tuba. Much like the drumset you see on stage, a tuba is a very expensive but very vital instrument to any ensemble's overall sound quality. Visit the GSO Tuba indiegogo page to find out more.

In the unfortunate event that we are unable to reach our goal, all funds raised will go toward the continued rental of the tuba, bringing down the purchase price even further with the hope that we will be able to purchase it sometime in the future. Should we go over our funding goal, all excess funds will go towards our operating costs. It's surprisingly expensive to operate a student-run orchestra. Of our approximately $17,000 yearly operating budget, the UMD Student Government Association funds less than a third of that. The rest of the cost has to be covered by donations from members and fans like you.

Returning to Dekelboum Hall in the Clarice Smith Performing Arts Center, December 1 at 2:00pm, for FREE as always, we'll be playing pieces from some of the classics - Zelda, Kirby, Final Fantasy - as well as some more niche favorites. What are they? You'll just have to come see us to find out!
---
The Super GSO Bros. Super Show has a new time - Tuesdays from 4pm to 6pm on WMUC's digital channel.
---
Guess what's finally up, everybody? Our Spring 2012 recordings! You can listen and download them for free here!
---
GSO on CBS!
---
Thank You For Our Best Concert Yet!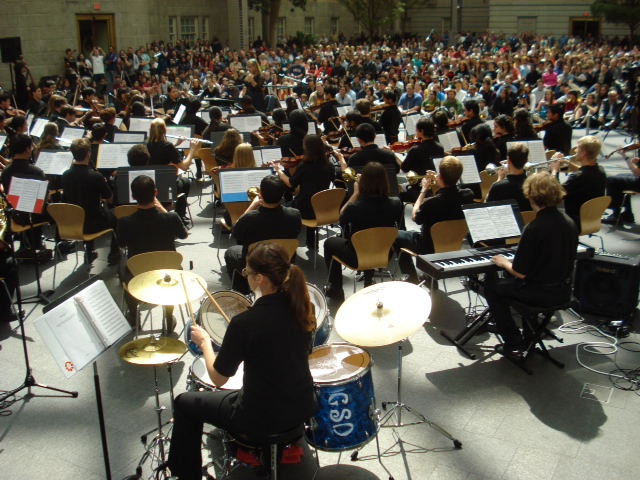 We have stumbled to find the words to properly express our gratitutde for the turnout at our Smithsonian Art of Video Games performance on Sunday, April 29th. Thank you, thank you, thank you to everyone who made it out to see and support us. We hope the experience was as memorable for you as it was for each of our members. Estimates of attendance fall around the 1,100 mark, as seen in the photo to the right - we've never had an audience sit on the floor before!

Full videos of the concert, courtesy our founder Michelle Eng, can be found here. MP3s of this semester's pieces will be available soon on our Listen page, so keep an eye out! Also coming soon, a gallery of photographs captured before, after, and throughout the performance!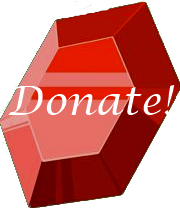 The Gamer Symphony Orchestra is a student run ensemble, funded only by the UMD SGA and our generous fans' donations. Please visit our Giving to Maryland page to show your support through a tax-deductible donation!

We look forward to seeing you in the Fall!
---
GSO Radio Show!
We have a radio show! Tune in to hear us on WMUC for the semester, Friday nights/Saturday mornings from midnight to 2 am on the digital channel, which you can listen to on the WMUC website. We'll be playing video game music, discussing music in the game industry, and other fun stuff. If you have any ideas or suggestions for the show, please feel free to email us at umd@gamersymphony.org!
---
Fall 2011 Concert Recordings and MAGFest Adventures
Concert recordings are available here, and a video playlist here, courtesy our founder, Michelle Eng! - Did you take photos or videos? Share them with us at umd@gamersymphony.org! Miss the performance? Take a look at the program here, in a PDF for your convenience.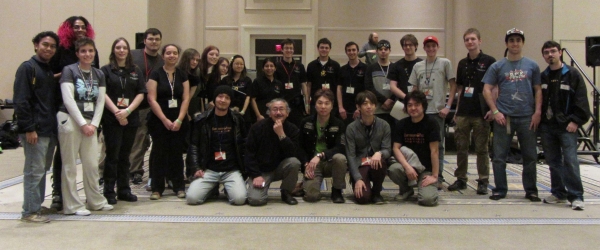 The GSO had a fantastic time at MAGFest X. Our panel, "Orchestral Game Music and Society", had a decent turnout, and our Jamspace performance had a small but enthusiastic audience.

The best audience we could have asked for, however, was Nobuo Uematsu himself and the Earthbound Papas, for whom a small GSO contingent performed Chris Apple's arrangement of "The Promised Land". View the impromptu performance below!

Many, many thanks to the Earthbound Papas and MAGFest for this spectacular opportunity. We hope you enjoyed having us as much as we enjoyed attending! See you next year at MAGFest 11!
---
Subscribe to our newsletter!