---
Fall Concert Details are Now Available!
Calling all GSO fans: start planning for our fall concert now!
This semester's concert will be at 12:30pm, Saturday December 2nd in the usual hall in the Clarice.
As always, our concerts are FREE but you will need to reserve tickets to make sure you have a seat! Please go to the Clarice's ticketing site to claim your free seats.
For more details, and to see who else you know might be going, RSVP to our official Facebook event as well! Hope to see you there!
GSO Featured in TERP Magazine!
As many of our fans know, the GSO is a unique organization - both on campus and in the larger music and gaming communities - because the GSO was the first orchestra of its type, a full symphonic orchestra and chorus that focuses solely on video game music.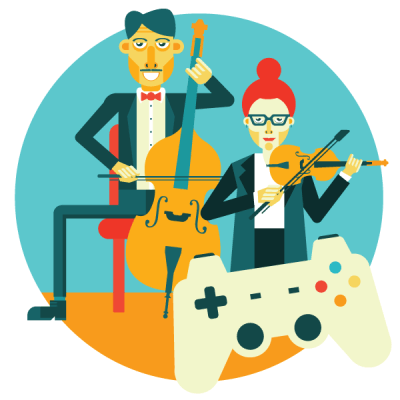 The GSO's popularity continues even as the group hits one dozen years old. Each end-of-semester concert fills the largest auditorium on campus, membership remains as one of the biggest student groups on campus, and arrangers from across the country submit sheet music for our consideration.
After another successful First Look Fair, the GSO was featured as one of eight "First" Choice groups, highlighting the wacky and wonderful student group possibilities available at UMD. Special thanks to writer Daniel Oyefusi and artist Jason Keisling for the fun feature!
Spring semester: a record number of concerts!
Last semester, we added a "small ensemble showcase" to our regular schedule. Spring is also when Maryland Day occurs, and the two times we've performed at the Smithsonian were also in spring. As such, it's not uncommon for us to have two or three performances in the spring, versus the one performance per fall that we've historically had. This spring, though, we're looking at having at least four concerts.
Yes, four! (And maybe five.)
In addition to the small ensemble showcase and Marlyand Day, we have one big announcements that is expanding our schedule this semester:
GSO is honored to announce that we will be performing at the Kennedy Center this March as a featured performance of the new Direct Current series.
We hope you're as excited for this amazing opportunities as we are! And keep your eyes out... As if we're not crazy enough, there might be another one in the works. Check the Events page for more info.
A fall semester "Thank You"
Between a rebranding and expansion of our video game tournament charity event, an all-new kind of concert specifically for small ensembles, a new YouTube channel, multiple fundraising events for us, and a main concert that was almost entirely made of newly arranged pieces, the GSO took on a lot of "Fearless Ideas". Thanks to you, our fans, each and every one of our endeavors this semester was a HUGE success! We're so glad that you enjoy video games and video game music as much as we do.
We hope to keep providing you with events to enjoy and opportunities to interact with us. Fall semester concert videos are already up on our YouTube page, and the MP3s will be available on our website early Spring semester. Also, we hope you like concerts, because spring semester is looking like it will be full to bursting with them!
Fall 2017 Officer Board
Congratulations to the following students who were elected by their fellow GSO members to serve on the GSO administrative committee for the upcoming school year:
President: Alex Yu (previous VP)
Vice President: Arden Qui (previous Secretary)
Treasurer: Suzie Demeritte (returning)
Secretary: Hojin Yoon
Music Director: Chun Mun Loke
Social Director: Beth Riege (previous O@L)
Orchestra Manager: Wil Combs (returning)
Officers at Large: Vivian Ding and Lawrence Guloy
Appointed positions were confirmed shortly after election results were known. The rest of the Fall 2017 officer board is as follows:
Orchestra Conductors: Leanne Cetorelli (returning) and Michael Mitchell (returning)
Choral Directors: Chase Frederick (previous Social Director) and Jessica Tsai
PR Director: Sarah Jackson
Webmaster: Austin Hope (returning)
Fundraising Directors: Cassie Herman and Cindy Xie