GSO Events
FUNDRAISER: Blaze Pizza
For the second semester in a row, we're going to go get pizza! Come have a slice with your friendly GSO members starting at 8pm - or starting a bit after 9pm if you want to meet the ENTIRE chorus as they leave their Monday rehearsal!
Show THIS FLYER at the cashier in order for your purchase to go toward GSO.
FUNDRAISER: Chipotle
If you like Chipotle and you like GSO, why not eat there and support us at the same time? More details to come.
CHARITY: Gaming4Life
We're rebranding! Deathmatch for Chrarity is becoming Gaming4Life, while will hopefully now be happinging once per semester instead of once per year.
Our signature video game tournament to raise money for Children's National Hospital will return this November. We'll be hosting multiple tournaments (with prizes!) in addition to having plenty of video, board, and card games just for fun, plus snacks, so there should be something for everyone.
As always, feel free to donate as much as you like when you arrive! Like last semester, we will be charging admission for baseline coverage - $5 when you show up at the door. You can also get the discounted rate without pre-registering if you bring consoles or TVs for use during the event.
Also RSVP to the Gaming4Life Facebook event when it goes live! Keep an eye there for extra announcements.
CONCERT: Fall 2017 small ensemble concert
With a continued rise in students wishing to perform small ensembles on top of a record number of new full orchestra submissions, we've decided to try something new and have a concert just for small ensembles! More details to come.
CONCERT: Fall 2017 full orchestra concert
Our regularly scheduled fall concert returns with a program packed with almost exclusively new pieces! Games/series we're covering for the first time include Runescape, Overwatch, and Bomberman!
As always, our concert is FREE but will require ticket reservations through the Clarice, which are NOW AVAILABLE on the Clarice's website. Click over here to reserve your (free!) tickets. Hope to see you there!
Feel free to RSVP to our official Facebook event as well, and watch this space for the link to the Twitch.tv stream (which should be live shortly before the concert itself).
---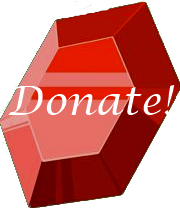 The Gamer Symphony Orchestra is a student run ensemble, funded only by the UMD SGA and our generous fans' donations. Please visit our Giving to Maryland page to show your support through a tax-deductible donation!
Page was last modified: October 09 2017