GSO Events
Deathmatch for Charity
Our annual video game tournament to raise money for Children's National Hospital returns the first week or April! We'll be hosting multiple tournaments this year (with prizes!) in addition to having plenty of video, board, and card games just for fun, plus snakcs, so there should be something for everyone.
As always, feel free to donate as much as you like when you arrive! We will be charging admission this year for baseline coverage - you can pre-register for $3 (you'll get an invoice), or pay $5 when you show up at the door. You can also get the discounted rate without pre-registering if you bring consoles or TVs for use during the event.
Also RSVP to the Deathmatch Facebook event! Keep an eye there for extra announcements.
Blaze Pizza fundraiser
If you like pizza and you like GSO, why not eat pizza while benefitting GSO? Present this flyer at Blaze Pizza the Monday before our concert to donate 20% of your order to us!
Spring 2017 Concert
Come see the GSO's major event of the semester, our FREE Spring Concert! TICKETS ARE REQUIRED to reserve seating (at no charge). Free tickets can be reserved on The Clarice website here (NOW LIVE). You can pick up the tickets from the Will Call Booth more than 15 minutes before to the concert starts (at 1:00PM), or you can print the tickets you should receive in your confirmation e-mail.
We have a diverse, fantastic repertoire planned for the afternoon including selections from Undertale, The Legend of Zelda, Halo and more! Feel free to RSVP to our Facebook event!
Maryland Day 2017
The GSO will be performing in Dekelboum at Maryland Day once again this year! Come spend your lunchtime with us and some awesome video game music! (Though do any actual eating outside of the theater, of course!)
---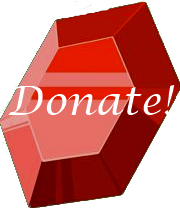 The Gamer Symphony Orchestra is a student run ensemble, funded only by the UMD SGA and our generous fans' donations. Please visit our Giving to Maryland page to show your support through a tax-deductible donation!
Page was last modified: March 12 2017