---
The History of GSO
by Rob Garner et al. (2011)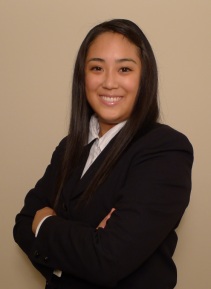 Michelle Eng, GSO's Founder.
The University of Maryland's Gamer Symphony Orchestra began humbly in the fall of 2005, the brainchild of founder Michelle Eng. Her inspiration came from Tommy Tallarico's Video Games Live tours, the Final Fantasy "Dear Friends" concert series, and Internet sensation "Video Game Pianist" Martin Leung.
Michelle was a violist in the University of Maryland Repertoire Orchestra, a for-credit ensemble intended for non-music-majors. Michelle recruited UMRO instrumentalists interested in video game music with the intent of starting an ensemble devoted to that music. A half-dozen or so individuals joined up with Michelle, including GSO's current low woodwinds section leader, Randall Perrine, GSO's only remaining founding member.
Michelle, Randall, and the other members began recruiting additional musicians. They ventured to a Terps basketball game that winter to recruit brass players (among them two future GSO presidents, trumpeters Jarred Young and Rob Garner). By the end of the semester, the ensemble had a name and a goal: The Gamer Symphony Orchestra would seek to legitimize video game music as an art form and to use that music to bring new (i.e., younger) audiences to orchestral concerts.
Rehearsals began at the start of the spring 2006 semester, during which GSO became an officially recognized student group. Our faculty adviser since that time has been Dr. Derek Richardson from the Department of Astronomy. (Dr. Richardson also happened to be a friend and mentor to bassoonist Randall.)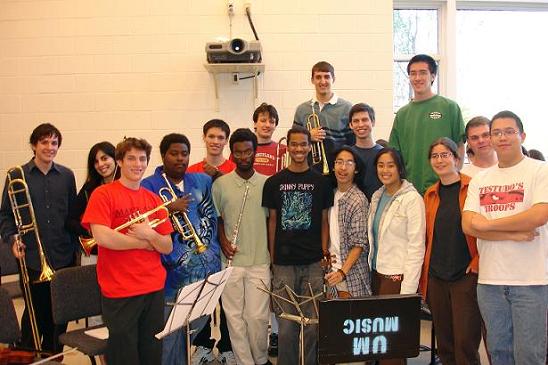 Gamer Symphony Orchestra members pose for this early group portrait in a basement classroom of the University of Maryland's Clarice Smith Center, April 22, 2006. The group's first concert was seven days later.
GSO's first performance took place in a Clarice Smith Performing Arts Center classroom on April 28, 2006. About 20 GSO musicians performed for as many members of Maryland's chapters of Kappa Kappa Psi and Tau Beta Sigma, national band service fraternal organizations. Our first public concert was the next day, at "Maryland Day," the university's annual open house. The orchestra played for a lunching crowd in the Baltimore Room, off the student union's food court. A week later, on May 4, GSO performed in the basement of St. Mary's Hall for members of the Language House. The three "concerts" featured a rudimentary arrangement of the theme from The Legend of Zelda by Rob, as well as versions of "Hikari" from Kingdom Hearts and the Final Fantasy prologue, found online by Michelle.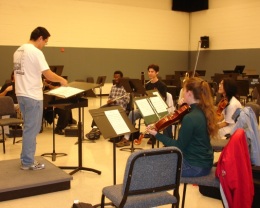 A 2006 rehearsal in CSPAC's basement orchestra room.
To this point, GSO had been rehearsing in the Clarice Smith Performing Arts Center's basement orchestra room on weekends, not knowing they were violating school reservations policy. Once facility staff brought this to GSO's attention at the end of the semester, the ensemble moved its rehearsals to the Armory lecture halls.

Recruitment at summer orientations proved successful, and GSO began the fall 2006 semester with about twice its spring membership. Joining at this point were GSO's first dedicated conductors, Renard Joseph "RJ" Sexton and Greg Cox, who provided musical leadership to the group through 2008 and 2009, respectively.
The 2006 semester included a performance in the Student Union Hoff Theatre as the opening act for the Satanic Mechanics' midnight shadowcasting of "The Rocky Horror Picture Show" in October. GSO returned to Hoff for its own concert on December 7. This concert was GSO's first with a vocal component: Brass players sang the opening and closing passages of Halo's main theme. This concert also marked the ensemble's first - and only - attempt at integrating video into a performance.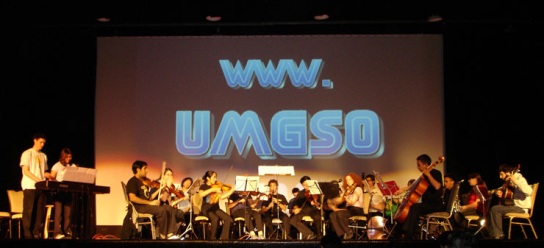 GSO Performs at UMD's Hoff Theatre in 2006.
Members displaying the original GSO uniform before the Spring 2007 concert.
GSO introduced its first concert uniform for the 2007 semester, a black T-shirt with a Pac-Man lined up to "eat" musical notes. Horn player and early group officer Rachel Kassman executed the design, based on graphical work by Amit Chauhan. (Previously, the group had been instructed to wear video game-themed apparel, "nerd culture" shirts, or Maryland gear.)
Michelle resigned as president in January to concentrate her efforts elsewhere. Then-vice-president Jarred Young took her place.
The spring 2007 semester saw GSO's first "Deathmatch for Charity" video game tournament, the brainchild of Rachel Kassman. The first iteration of the event raised a few hundred dollars for Children's National Medical Center, via Childsplaycharity.org.
The May 2007 concert was GSO's first in the Memorial Chapel. Thanks to a friendship of RJ's, singers from Towson University's Take Note a capella group joined GSO in a revised and expanded Halo arrangement, provided by eventual Music Director Chris Apple, who had joined that semester.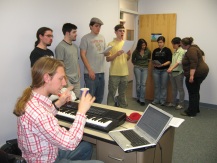 The GSO Chorus rehearses in the sweltering, stuffy GSO Office in the South Campus Dining Hall in 2007.
By fall, GSO's membership had risen to about 50. Chris set about founding a chorus within GSO. He and RJ ran rehearsals, sometimes held in GSO's old office in the top floor of the South Campus Dining Hall. (The initial dozen members included some instrumentalists who participated in both the orchestra and the chorus, a practice disallowed for logistical reasons after 2008.) Occasionally, the chorus would rehearse outside the dining hall to escape the office's stifling heat - even in winter. Passersby often complimented the vocalists' rendition of "The Promised Land," from the Final Fantasy Advent Children film.
In spring 2008 GSO had its first performance at the Clarice Smith Performing Arts Center. Event staff had to open the second level of seating in the Kay Theatre to accommodate the unexpectedly large crowd, which included representatives from OC ReMix, such as founder David Lloyd. The concert saw GSO's first performance of its signature piece, "Still Alive" from Portal, arranged by Greg Cox. It was a recording of this arrangement that got GSO onto OC Remix (under the title "Live from [SUBJECT HOMETOWN HERE]"). GSO provided OCR with only the second live recording in the site's history, and the first remix from "Portal." Composer Jonathan Coulton posted a link to the recording on his blog, calling it a "fantastic cover."

The orchestra and chorus, added in 2007, filled the Clarice Smith Center's Kay Theatre at the spring 2008 concert. The GSO proved so popular that secondary seating in the theater's upper level had to be opened at the last minute to accommodate the crowd.
Riding high on these successes, GSO was able to transition from the Armory to the Chapel as its primary rehearsal venue. Increased financial support from the Student Government Association made this possible.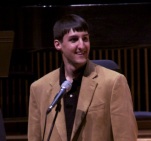 Rob Garner speaking at GSO's Fifth Anniversary Concert in Spring 2011. Photo courtesy of Ed Campion.
RJ Sexton graduated in spring 2008. He began work on starting a non-profit: Gamer Symphony Orchestras Incorporated, which would seek to seed GSOs elsewhere. (Following RJ's move to Europe months later, work on the GSOs Inc. temporarily stalled.) Rob Garner, now playing flugelhorn, was elected GSO's third president in the spring, thanks to his return to Maryland as a graduate student.
In the fall of 2008 GSO received a new logo. Matt Maiatico, friend of GSO tubist Chris Davis, designed a new logo for the group, a stylized black-and-white "mii" conductor in a tuxedo, using a Wiimote as a baton. A red "M" hat completed the logo, officially named "Rasputin" in a later member vote. He can be seen at the top of this site.
The GSO returned to the Memorial Chapel for its semester-ending concert in December. Joel Guttman and Elliott Coleman, two students from Magruder High School, were inspired to create their own video game orchestra after witnessing GSO's performance. The university's GSO provided start-up guidance and sheet music to help get the Magruder GSO going.
In January 2009 GSO made its first appearance at the Music and Gaming Festival in Alexandria, Va. Greg Cox, Chris Apple, and GSO's advertising director, Justin Johnston, participated in an interview with OC ReMix, while Rob Garner conversed with Shota Nakama, founder of the second collegiate-level orchestra to draw its repertoire from video games. Shota (unaware of GSO's existence) had founded the Video Game Orchestra at the Berklee College of Music in April 2008.
In spring 2009, the School of Music retired the Maryland Chorus, a community-style ensemble that had been in operation for some 50 years. GSO invited all interested members from the Maryland Chorus to join ranks with the video game ensemble's singers. The offer for fall membership was accepted by one singer, Alexandra Blasgen.
Audience members commingle with the ensemble after the Spring 2009 performance in Dekelboum. Photo by Nick Piegari.
GSO performed in the Clarice Smith Center's Dekelboum Concert Hall for the first time in May. With 1,170 seats, Dekelboum is the largest performing arts venue on campus. Thanks to a successful advertising campaign managed by Justin Johnston, the concert hall was nearly full.

The fall concert in 2009 was again at the Chapel and saw the GSO debut new uniforms: black polos with the new logo embroidered into the chest. Violinist and mandolinist Katie Noble, who joined in February, made alterations to Rasputin's hat. (Matt had copied his version from the Nintendo Club of America's logo.)
GSO had hovered around 100 members for about a year by the time the ensemble reached the spring 2010 semester. The past successes of the group, coupled with a cordial letter of appeal (signed by all 100 members) to School of Music Director Dr. Robert Gibson, resulted in GSO returning to the Performing Arts Center's rehearsal space - for the first time since 2006 - near the end of the semester.
This new atmosphere of cooperation on the part of the School of Music was greatly fostered by newly arrived artist-in-residence Greg Sandow. Prior to coming to the university, Mr. Sandow had a background as a composer and music critic. His area of interest as an artist-in-residence was in how orchestras can adapt to draw in younger audiences and form a stronger relationship with those audiences. He heard about the GSO from school officials. Mr. Sandow requested to meet with GSO's leaders. He was thrilled to learn that the student-run ensemble of non-music-majors was already making brilliant headway in his areas of interest.
GSO became partners-in-spirit with Mr. Sandow's "New Lights" project, aiming to bring the level of interactivity and outreach exemplified by ensembles like GSO to other orchestras.
GSO's spring 2010 concert matched the attendance reached the previous year. The ensemble's recording of a Celtic-themed medley of songs from The Legend of Zelda: The Wind Waker, arranged by Rob Garner, became the group's second piece to make it onto OC ReMix.
A sizable recruitment push over the summer saw GSO's roster top 120 musicians, including 40 singers. The GSO's reputation and renown grew considerably following a Washington Post article in late July about orchestral video game music. The piece, authored by Post Music Critic Anne Midgette (and wife of Greg Sandow) highlighted the Maryland and Magruder GSOs. The article inspired Sarah McRoberts at Damascus High School to form a GSO of her own. (With considerable help from DHS Band Director Charlie Doherty, the Damascus GSO began rehearsals on Feb. 3, 2011.)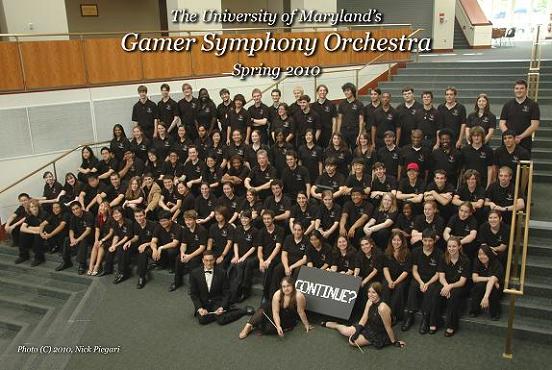 Not yet five years old, GSO boasts 100-plus members, 97 of whom are pictured here, following the group's performance in the Clarice Smith Center's Dekelboum Concert Hall on May 8, 2010. Photo by Nick Piegari.
Public affairs staff for Video Games Live contacted the Maryland GSO in August asking how the college video game ensemble could collaborate with VGL when the tour came to the Strathmore in Bethesda for two shows on Feb. 26, 2011. The scope of their idea had been limited to advertising, but GSO President Rob Garner (by now heading into his third and final term) suggested having the VGL play a GSO arrangement, an idea which piqued Tommy Tallarico's interest.
By the end of the fall semester, VGL and GSO had worked out for a piece arranged by the college group to be played by the National Philharmonic at the VGL concerts on February 26. Tommy selected Greg Cox's arrangement of "Korobeiniki" from Tetris as the piece to be played.
The connections new GSO Music Director Bryan Vanek had as a vocal performance major served GSO's chorus well. He was able to arrange for Dr. Edward Maclary, director of the School of Music's choral activities, to work with the chorus one rehearsal in November.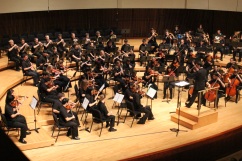 GSO's first Fall performance in Dekelboum. Photo courtesy of Mark Noble.
The semester culminated in GSO's first fall performance in the Dekelboum Concert Hall - and its most successful event in the ensemble's history. Thanks to an exhaustive advertising campaign (including outreach to all high schools in adjacent counties) led by Katie Noble, GSO overfilled Dekelboum, including the halls' chorister seats. Event staff reported having to turn people away: Fans were still arriving in a steady stream as intermission neared.
GSO raised its largest single-day donations collection ever, topping $2,700, more than doubling the previous record. The windfall was well timed. Hard financial times for the Student Government Association, coupled with the added expenses of CSPAC rehearsal space, put GSO in danger of running short by $5,000 for the spring 2011 semester. Thanks to the generosity of fans and members, additional funding scraped together by the SGA, and some cost-cutting, GSO was able to pull itself back into the black for its fifth-anniversary semester.
Funding was not the only milestone of the fall 2010 concert. This performance also marked the first time that representatives from the School of Music had attended a GSO event. In the audience were Greg Sandow, Assistant Director of Athletic Bands Eli Osterloh, UM Symphony Orchestra Director James Ross, and UM Repertoire Orchestra directors John Devlin and Michael Jacko. Dr. Michael Votta, director of wind activities, was also in attendance. All were reportedly quite impressed at the size and passion of the GSO audience.
Weeks later at MAGFest 9, GSO received special praise from the convention's staff. The group got a special shout-out from Jon St. John, the voice of video game character Duke Nukem, at the opening ceremony. Later in the event, GSO representatives connected with composer Grant Kirkhope, noted for his work on Donkey Kong 64, Banjo-Kazooie, GoldenEye, Perfect Dark, and other groundbreaking games. Grant had previously heard about GSO from members of the OC ReMix and MAGFest communities and was thrilled to learn music from Banjo-Kazooie would be featured at the ensemble's fifth anniversary concert on May 7, 2011. He immediately committed to being a guest of honor.
In February, the GSO and Video Games Live collaboration finally came to fruition: The National Philharmonic Orchestra and Chorale, under the baton of composer/conductor Wataru Hokoyama, performed GSO's "Korobeiniki" to two sold-out crowds on February 26 at the Strathmore in Bethesda. Greg Cox, by now a GSO conductor emeritus, was able to return from doctoral study at Indiana University for the performances. Chris Apple had been selected by GSO's music committee to provide the tenor solo for the piece. His rehearsal with the National Philharmonic on February 25 went so well that Chorale Artistic Director Dr. Stan Engebreston allowed Chris to sing the full program at both shows. At one of the two concerts, George Mason University student Paige Epler approached Joel Guttman, by now an acting officer-at-large in GSO, to ask for help in setting up a video game orchestra of her own.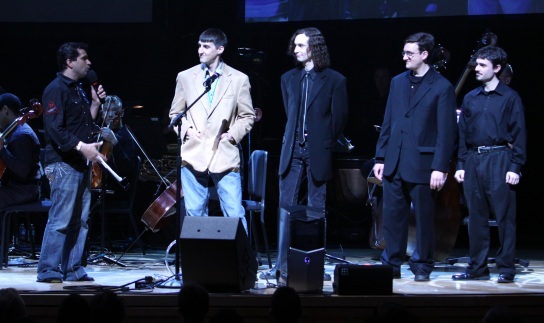 Left to Right: Tommy Tallarico, former President Rob Garner, Conductor Emeritus Greg Cox, Conductor Emeritus Peter Fontana, and former Music Director and "Korobeiniki" soloist Chris Apple, with the National Philharmonic Orchestra & Chorale at Video Games Live! in February 2011.
GSO's fifth-annual Deathmatch for Charity on March 12 raised $600 and received coverage in The Diamondback on March 14. To permit a quicker transfer of the funds raised, GSO worked directly with Children's National Medical Center, rather than through Child's Play.
While GSO was proctoring video game tournaments, the orchestra's arrangements were making a splash in Europe. Months earlier David Westerlund, a noteworthy figure in the Swedish video game music scene, e-mailed the GSO for assistance in coming up with arrangements for a concert to be held at Uppsala University in Sweden on March 12. GSO provided the sheet music for "Still Alive," arranged by Greg Cox; "Super Mario Bros. 2 Medley," by Rob Garner; "Final Fantasy Epic Battles," by Gerald Tagunicar; Final Fantasy VIII: Forcing our Way," by Michelle Eng. The "Level UPPsala" concert was performed by the university's Royal Academic Orchestra under the baton of Stefan Karpe.
On Sunday, April 3, the video game musicians shared the Dekelboum Stage with the UM Wind Ensemble, the first such cooperative instance in GSO history. Director of Bands Dr. L. Richmond Sparks extended the invitation following a scheduling mix-up that resulted in a double-booking of the Wakefield Band Room for a GSO rehearsal and a Lion's Band practice. The GSO performed a preview of its spring concert selection following UMWE's segment.
GSO music again made it to an international venue in midmonth. Tommy Tallarico had been impressed with the crowd response in February to what he dubbed the "Tetris Opera." Video Games Live played the piece again on April 13 and 14 in Vancouver. Laura Intravia performed the solo.
At the end of the month, GSO performed another preview concert, this time at Maryland Day. In the audience was School of Music Board of Visitors Member Eirik Cooper (also a saxophonist alumnus from the Mighty Sound of Maryland and member of the Maryland Community Band). Cooper remarked that GSO "had a fan" in him.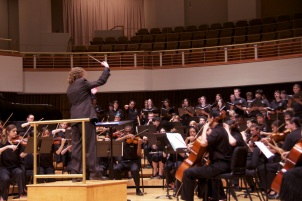 GSO's Conductor Emeritus Greg Cox guest conducts his arrangement of Still Alive at the Fifth Anniversary Concert in Spring 2011. Photo courtesy of Ed Champion.
One week later, GSO celebrated its fifth anniversary (though the actual date was at some point the previous fall). For the May 7 concert in Dekelboum, Greg Cox returned again from his graduate work in Indiana to guest-conduct "Still Alive." Greg and current maestro Peter Fontana performed a gorgeous piano-flute duet of "Angel's Fear" from Secret of Mana. The Magruder High School GSO performed "Electric de Chocobo." Eirik Cooper and School of Music Director Dr. Robert Gibson attended. As promised, so did Grant Kirkhope. He recommended his friend and fellow composer, Mark Cromer, to provide the banjo solos in GSO's performance of the Banjo-Kazooie medley, the first arrangement from first-year GSO tubist David Scherr. (GSO's chorus provided the kazoo voices.) Cromer had rehearsed with the GSO the previous weekend, an experience he called the "most fun thing I've ever done."
(Jonathan Coulton was unable to attend, but he reiterated how much he loved GSO's rendition of "Still Alive.")
Cooperation with the Percussion Department through the spring semester, an effort headed by Conductress Kira Levitzky, allowed GSO to utilize timpani, a glockenspiel, a bass drum, and other percussive instruments for the first time in concert.
The concert also marked the first time that GSO could accept tax-deductible donations. Deb Rhebergen, Rob Garner's contact in the Colonnade Society, and James Rychner in the Division of Student Affairs worked to set up a College Park Foundation account for GSO, which allows benefactors to donate to the university as a whole and direct those contributions to the orchestra. Thanks in part to this development, GSO topped the fall 2010 record by collecting more than $2,800.
Following the concert, GSO posed for a group portrait on the steps in the Clarice Smith Center lobby. At that moment, to the shock and delight of the entire ensemble, Rob Garner proposed to violinist Katie Noble, his girlfriend of two years. Though a number of relationships have sprouted from GSO, Rob and Katie become the first two members to have met through the ensemble and then gotten engaged.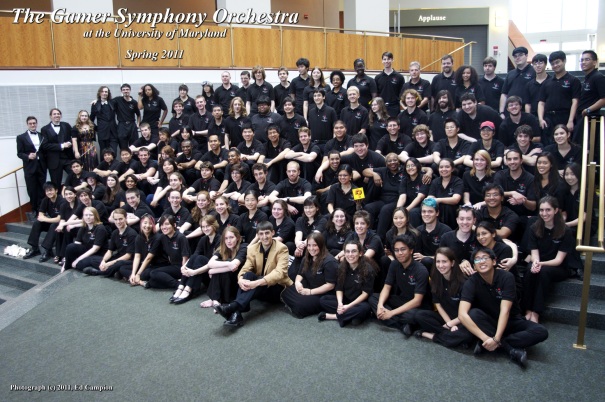 GSO Spring 2011. Rob and Katie, to his right, sitting front and center, moments before the big question! Photo courtesy of Ed Champion.
Final exams and commencement ceremonies gave way to officer transitions and summer planning and recruitment. Trumpet Section Leader and university senior Matt Phipps took over the ensemble's leadership following Rob's graduation from the university's iSchool. Venerable GSO conductor Peter Fontana stepped down to concentrate on his doctoral program, leaving the group's musical leadership in the hands of Conductress Kira Levitzky and Choral Director Kyle Jamolin, who succeeded Jeff Nickerson following the latter's graduation.
At the semester's conclusion, Civilization V composer Geoff Knorr e-mailed that he wanted to work with the GSO to fashion a new medley of themes from the game. Knorr had heard about GSO from MAGFest's Dominic Cerquetti. A few weeks later, the "Tetris Opera" graced the 7,000-seat Nokia Theatre at L.A. LIVE as part of VGL's performance at the E3 conference.
In just five years, GSO has gone from a group of six people talking about video game music to a renowned 120-piece ensemble with a legitimate international profile. Financial hardship remains an area of concern, as does whether the GSO emphasizes camaraderie or musicianship, but if the group's trends over its first five years are any indicator, it will have much to celebrate by its 10th anniversary in Fall 2015.